We've spent a lot of time here at Children of the 90s talking about the many, many wa
ys the adults in our lives tricked us into learning things by slipping educational elements into
seemingly recreational endeavors. What we've glossed over, however, a
re the
ma
ny toys our parents and teachers provided for us with the express purpose of education. These toys didn't dance around their true nature with all sorts of flashy distractions; instead, they made
playtime suspiciously similar to school time. Kind of a bummer.
Though our initial instinct for free time was probably not to play with these teaching toys, for some reason or other many of us ended up spending countless hours with the
m
. Whether thro
ugh parental persuasion or limited classroom free play choices, we often
willingly picked up a Speak & Spell or a See n' Say and engaged in its attempts at educational endeavors. These toys may not have held their own against the mindless allure
of a Skip-It or Super Soaker, but for the most part they still hold that endearing nostalgic appeal.
Speak & Spell
It's amazing how quickly technology novelty can depreciate. O
nce upon a time, a talking electronic seemed incredibly high-tech for a children's toy. Granted, the novelty was probably subdued a bit by the toy's strictly educational premise, but there
was something distinctly charming about that robotic voice emanating from the Speak & Spell.
Speak & Spell (and its multi-subject counterparts Speak & Rea
d and
Speak & Math) were the ultimate device for tricking kids into learning academic material duri
n
g their leisure time. Cleverly disguised as games like hangman and memory, Speak & Spell bore into our heads valuabl
e lessons about prefixes and suffixes, hom
ophones, and word patterns. It was all just about as exciting as the machine's monotonous voice.
2-XL
The original 2-XL debuted in the late 70s--around the same time as the Speak & Spell prototype. Most children of the 90s probably better remember the 1992 reintroduction released by Tiger Electronics that replaced the original's 8-tracks with cassette t
apes. The interactive buttons we used to answer 2-XL trivia questions seem primitive in comparison to today's highly complex children's electronics, but we were all still easily amu
sed enough at the time to be won over by the idea that we had our very own robot.
Teddy Ruxpin
Teddy Ruxpin was either very novel or very creepy, depending on your tolerance for animatronics. On one hand, his moving mouth and eyes made the stories he read via audiocassette come alive. On the other, the audiocassettes made
him
come alive, which for many children bordered on a traumatic experience. For all of us who harbored fears of our toys coming to life (a la Chucky, not Toy Story) Teddy Ruxpin was the stuff of nightmares.
Talk n'Play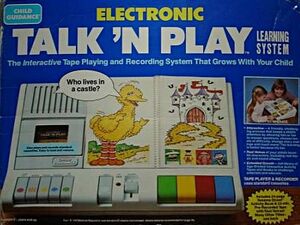 For weeks I have been trying to remember what this devi
ce was called; a quick survey of my friends' childhood memories led me to believe I had possibly made it up and it did not actually exist. Lo and behold, though, through the handy power of Google, its realness has been affirmed. Please tell me some of you owned this device, because I'd hate
to be the only one reminiscing about its awesomeness.
The Talk n' Play came with a variety of books, mostly featuring characters from Sesame Street and Alvin and the Chipmunks. It's humorous now to realize I w
as once so wowed by a contraption that allowed me to electronically choose my own adventure with the pres
s of a button--essentially the most basic function of every computer game. Nonetheless, this device once entertained me endlessly; I'm convinced if my Talk n' Play were r
eunited, my delight in its reactivity to my responses would be just as exciting. I do think, though, that I would still feel guilty about defying Grover's moratorium against pressing the red button in the book, "Don't Push the Red Button."
Alphie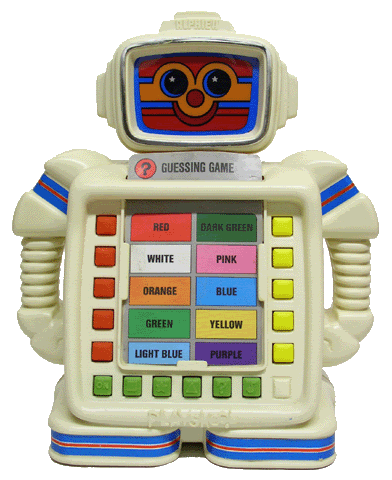 Playskool's Alphie was about as simple as a robot toy could get. It had relatively few electronic functions; most of the learning action relied on interchangeable cardboard cards you inserted into his display window. The Alphie toy was an educationa
l staple in 80s preschools, entertaining toddlers with its low-level interactivity and hard-to-break durability.
Pl
ayskool still makes the Alphie robot, but its space-age exterior and digital display bears little resemblance to the Alphie of our day.
See n' Say

I know this came out in the 60s, but they were such a common presence in 80s and 90s homes and classrooms that I couldn't leave the See n' Say off the list. Without their handy pull string apparatuses, we may never have found out exactly w
hat the cow or sheep say. For the record, it's moo and baah. Thanks, See n' Say!
K'nex
At first glance, these building blocks may not seem especially educational. However, if any of us made even the vaguest attempt to replicate the awesome full-functioning K'nex machinery from the commercials, we quickly found ourselves in the midst of a learning experience.
The ads made it look so easy: just follow the ins
tructions and you will soon be the proud owner/operator of a spinning ferris wheel or speedy go-kart. In reality, though, these designs were incredibly difficult to duplicate, particularly without the aid of constant adult intervention.
Brain Quest
Though it's probably incorrect to classify these trivia booklets as toys, their arguably superior educational value in comparison to the other playthings on this list earns them a verified spot. While many of these other toys made some halfhearted attempt to hide their educational elements under a veneer of fun and games, Brain Quest made no efforts to depict its purpose as anything less than a useful learning tool, even including grade level classifications against which we could measure our intelligence. These classifications were useful and ego-boosting when we managed to answer a question from the 6th grade set as a mere 4th grader, but not quite as self esteem-building when you failed to deliver a basic 1st grade fact.
Note: If you're looking for educational computer games, have no fear: I haven't blatantly omitted them. There's an entire post devoted to singing their praises. Check it out.