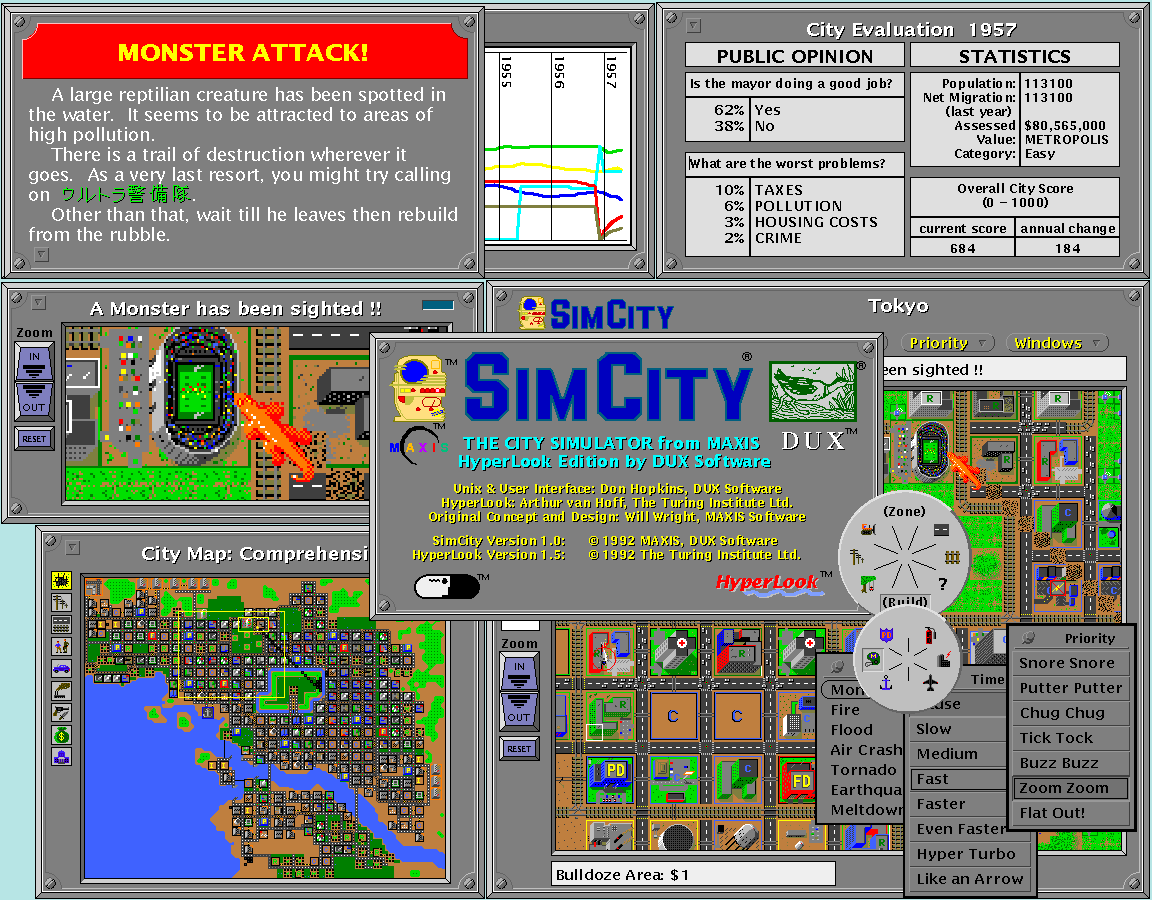 No wonder all of us 90s children have such a puffed-up sense of self-worth and entitlement. What else would you expect after repeatedly encouraging us to play the role of virtual God throughout our childhood and adolescent years? Through the magic of computer games, the Maxis company gave us a unique opportunity to create our own little worlds complete with a population of inhabitants to control according to our benevolent or occasionally sadistic whims. We may not all have been kind and compassionate gods to our burdgeoning creations, but we certainly were powerful.
The first
SimCity
computer game debuted in 1989, featuring a simulated city-building program. It seemed like an innocent enough concept, and almost extensively educational at that. The object of the game was to build fully functioning cities that could withstand the impact of various disastrous scenarios, ranging from the realistic (1906 San Francisco earthquake) to ridiculous (Tokyo attacked by unlicensed Godzilla knockoff). Upon first glance the game seemed tedious, but it quickly became exceptionally addictive. Dealing with zoning laws and tax codes are a small consolation for the unlimited control of our little city. We commanded our anonymous miniature townspeople to do our bidding, and we saw that it was good.
SimCity
was a runaway success, leading to countless reincarnations and reinventions. Clearly, people just could not get enough of ruling their own microcosmic universes. It was a pretty good feeling, after all. For the cost of a computer game, you could elevate yourself to the status of almighty ruler. All in all, not a bad deal.
The follow-ups to
SimCity
were endless. We had
SimEarth
, in which we got to design and guide the development of your very own planet. There was
SimLife
, allowing us the opportunity to mold the "genetic playground" of an ecosystem of plants and animals. We even had
SimFarm
, a primitive predecessor to that pesky Farmville on Facebook. The next time you have to endure endless newsfeed posts regarding the sad encounter of an ugly duckling or sad brown cow found wandering on the outskirts of a friend's farm, you may want to shake your fist in disgust at the Sim creators who planted the idea in the first place. Yes, I said planted. It's a farm pun. Get over it.
By the year 2000, it seemed nearly inevitable that the computer whizzes over at Maxis would run out of ideas at one point or another.
SimCity 2000
and
SimCity 3000
seemed to have covered all possible ground for the game. It was hard to imagine expanding beyond the already exhaustive details of the
SimCity
series. By
SimCity 3000
, the programmers had gone so far as to insert angry citizen protesters when we made an unpopular public works decision. It sounded like they must have used up all of their viable computer game ideas. How much more could they possibly squeeze into a reissue?
And then, suddenly, Maxis issued us an entirely new vantage point from which to get our world-ruling jollies. In 2000, they released The Sims, through which we could live the complete simulated life of a virtual character. We may have thought we had been playing God in all previous incarnations of the game, but that all seemed pretty entry level once we saw what was to come.
In
The Sims
, we had full control over a virtual person (or people, if you were an adequate multi-tasker). Many of us saw fit to actually model a Sim after ourselves, christen it with our name, and try to control its life decisions. What we may not have known, however, was that our mischievous little Sims were imbued with the pesky power of free will. Yes, that's right. The video game versions of ourselves over which we thought we had full control were actually wont to rebel against our commands and make their own decisions. Even if you tried your best to give your Sim an exclusively happy life devoid of disappointments and unfortunate experiences, he or she was bound to go off on their own and make some poor choices. Go figure.
Not all of us were kind and just rulers of our virtual underlings, either. Many of us derived great pleasure from cruelly experimenting with the emotions and reactions of our Sims. There were countless instances in which to muse, "I wonder what would happen if I..." and then proceed to subject our innocent Sim to all forms of unhealthy deprivation and morally ambiguous scenarios. "I wonder what would happen if I blew up his house?" "I wonder what would happen if I won't let him use the bathroom for six days?" "I wonder what would happen if I force him to have romantic liaisons with every neighbor on his block?" I wonder what would happen, indeed. Even without the aid of my handy Simmish to English dictionary, I could tell my Sim was not especially pleased with the lifestyle choices I'd made for him.
The Sims
went on to become one of the bestselling computer games of all time, proving that we all must deep down have some morbid fascination with the notion of playing god to a host of virtual people. In
The Sims
and all of the Sim worlds that preceded it, we got our first taste of complete power, and it felt good. It wasn't until more recently that they unleashed the ultimate virtual rulership beast:
Spore
. Seriously, if you have not played it, go pick it up. It's amazing. You grow from a spore into a sea creature and you evolve and you kill things. Just don't blame me when you start dreaming in tribal strategy and have sudden flashes of inspiration for a redesign for your creature's aerodynamicity. Yes, I just made that word up, but didn't you hear? I'm entitled. I'm a
creator.