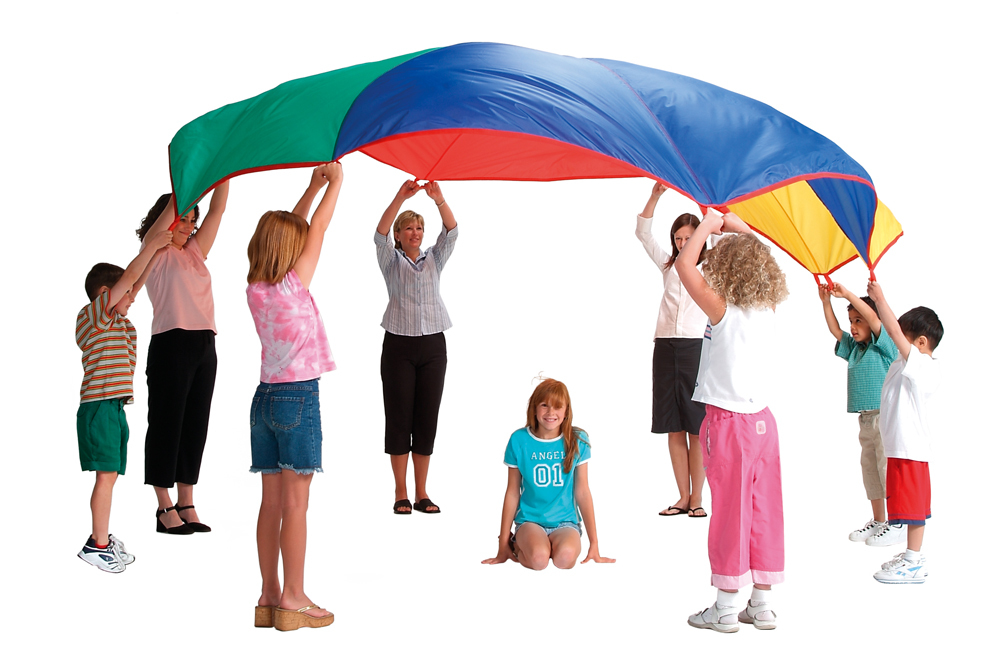 Ah, parachute day. Whether you were a budding star elementary athlete or one of the designated indoor kids, the parachute was a universally appealing gym class apparatus. Something about those glorious primary colors had the power to put children under some sort of enchanted parachute spell, mesmerizing them with its rhythmic movement and waves of red, blue, and yellow. Throw in the fact that we each had our
very own handle
and this was a participatory physical education dream. The responsibility was great, sure, but the excitement of playing a role in the billowing of the giant parachute was infinitely greater.
It just goes to show that it doesn't take flashy or expensive equipment to delight a child and pique his curiosity. These parachutes were extremely simple in design and use, yet they rarely failed to entertain us during a vigorous physical education hour. Perhaps it's a bit of a stretch to label it as actual exercise, but maybe all that arm flapping gave us some sort of low-level workout. As long as it tired us out enough for naptime, our caregivers were more than satisfied.
Just in case you haven't brushed up on your gym class parachute activities in a few years, here is a handy guide to some of the many magical games offered by this overhyped nylon bedsheet with handles.


Making Waves


Even the youngest Gymboreers can take part in this one, assuming they have the ability to grasp the handle and wave their arms maniacally. To create waves, all the children in class simply have to pick up a handle and shake vigorously. The parachute billows back and forth, the kids ooh and aah in amazement, and the teacher sneaks out back for a smoke.


Mushroom/Jellyfish

I actually believe we may have called this maneuver "Mushroom Cloud," but that's probably just a tad too morbid to fathom for five-year old children. "Hey kids! Isn't this just like an atomic explosion?"
In this exercise, all children have to obediently pull their handle up and over themselves to retain a bubble of air in the center. It's like a little fort, only much more colorful and slightly awesomer. Plus all your friends are there. I kind of want to stage a Jellyfish right now, it sounds 100% preferable to a day at the office.
Variation: Washing Machine
Make a Jellyfish/Mushroom configuration, but allow the kids to shake crazily while inside. If it's not realistic enough, feel free to put them in an actual washing machine.


Popcorn

Insert sports ball in center of parachute. Grab handles, shake like maniacs. Commence in delight at rubber balls popping in air. Repeat ad nauseum. Seriously, children never tire of this. You could do it forever.


Shark Attack
The details on this one varied from school to school, but the game universally included screams of bloodcurdling terror. Two children are selected as sharks, the equivalent of "It" in a game of tag. All the other children place their legs under the parachute as the sharks attempt to pull them under in Jaws-like attack mode. Good news is, once you were eaten, you magically became a shark who got to eat swimmers, too. You know, just like in real life.


Merry Go Round
This activity leads me to believe our teachers were fairly sadistic and all had a good laugh in the breakroom at making us dance like obedient trained monkeys. Everyone grabs the handles and the teacher calls out a movement, like "Skip!" or "Run!" The kids run wildly in a circle until they collapse in a pile of heavy-breathing exhaustion.


All Change/All Switch
Here's a good way to check if your students know their birthdays or which letter of the alphabet begins their name. Make them all hold the chute tightly above them, then call out a command like "Everyone with June birthdays, switch!" The idea was to allow everyone to switch before the parachute fell, but there was always some kid without a June birthday who'd tackle the parachute to the ground before they had a chance to try. Jerk.