Tracking lollipop trends can be an arduous undertaking best left to professionals. With all the ups and downs in the hard candy market, it's tough to say which models will stick. Figuratively, that is. Literally, everything will end up pretty sticky.
Novelty candies were all the rage in the 80s and 90s. Everything had a gimmick. It was no longer enough for a candy simply to be delicious; now it needed to have entertainment value as well. Competition in the confectionery consumer marketplace was fierce, meaning candy companies were under pressure to produce new and innovatively packaged materials that would appeal to children on multiple levels.
To do so, candy makers had to think outside the box. That is to say, they needed to alter the packaging to make it externally palatable (though with the hope that children would not attempt to consume that as well). Suddenly, sweets weren't just sugary junk food, they were
toys
: bona fide sources of classroom distraction and playground entertainment.
Of the new* multifaceted lollipops available, ring pops had a pretty widespread appeal. And the convenience! You didn't even have to hold anything, as the candy itself was cemented to the base of a plastic ring. And of course, here's nothing quite like teaching a girl to grow to expect the equivalent of a 20 carat rock on her finger from a young age.
Ring pops were novelty as its finest. You got to
wear
your food. Short of candy necklaces, this was pretty much the most exciting jewelry-themed treat on the market. The commercial below, however, is the tiniest bit disturbing when that little boy proposes to the girl by means of a ring pop in a velvet box. I'm sure they were going for cute, but it comes off a tad creepy. I mean, these kids are about seven years old. Why are we pushing candy marriage proposals?
That jingle is pretty catchy though:
"It's a lollipop, without a stick!


A ring of flavor you can lick!"
At the end when they display the hands bedecked in ring pops galore, it looks like a dream come true. It looks nearly as satisfying as decorating myself with all of the jewelry that came with my Pretty Pretty Princess board game, only it wins additional points for edibility:
You also have to love the way they redid this commercial for the late 90s. It's almost the exact same thing, only the teeniest bit jazzier. Maybe there had been some recent develop in synthesizer technology by the time this baby aired. That's the only plausible explanation for not rereleasing the original:
Ring pops were admittedly on the girly side, so luckily the same company came out with a more gender neutral lollipop release. The Push Pop was supposed to be practical with its "save it for later" plastic cap, but looking back that whole concept makes me want to Purel the hell out of every corner my mouth. Sure, you had the ability to eat a candy over an extended period of time, but the sanitary/hygienic component was questionable. On the other hand, it sure beat my friend's pastime of preserving a jaw breaker over several days by leaving its spit-covered carcass in an open bowl on his desk. At least with push pops, the covers could keep out a higher percentage of the dust bunnies.
The underlying concept behind the push pop was that you could actually push up the candy from within the plastic tubular packaging, allowing you as the eater to control how much pop you'd like to expose. Theoretically you could cap the pop, call it a day, and come back to it later that week. It seemed, though, that this candy was made from the stickiest substance known to man. Not only that, but it seemed to form some sort of chemical glue-like bonding reaction when coupled with spit, its major means of disintegration.
Both Push Pops and Ring Pops came in all sorts of lab-created flavors that had relatively little in common with flavors found in nature. The cherry flavor had the added bonus of applying an unintentional bright coating of red color on your lips sans lipstick, but had the unfortunate downside of tasting like cough syrup. Another wildly popular flavor was blue raspberry, which for some reason has caught on in a big way as an artificial flavor. I'm not sure how to break it gently to these flavor scientists, but raspberries aren't blue. Ever.**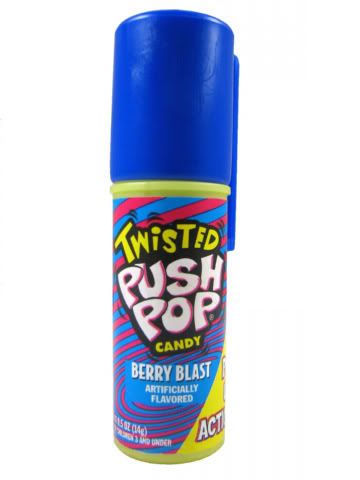 Later incarnations came in flavors that definitely appealed to us as children but sound a little repulsive in our current state of well-advised judgment: bubble gum, cotton candy, green apple***, and the intentionally vague "citrus". Each of these flavors was ostensibly a huge commitment, as the amount of time and effort to consume the sheer quantity of hard candy available via ring or push pop was immense.
Truthfully though, this was the way we and our parents liked it. The candy had a two-pronged approach to keeping us occupied: the effort involved in actually consuming the slowly diminishing hard candy and the added value of its novelty features entertaining us. I must admit now it all seems a little overrated, but what do I know? I was more of a Chupa Chup girl.
*Okay, so they were introduced in 1977, but they were a novelty to children throughout the 80s and 90s
**At least as far as I know and am too lazy to research otherwise
***Yes, I admit lots of people like green apple. But I challenge you to have a semi-traumatic experience with Smirnoff Green Apple vodka and not feel at least mildly repulsed by the flavor