I'm still moderately crushed that they didn't unleash the glory of the respective downtown-based American Girl Places until I was far past the acceptable American Girl consuming age. I would have been
all over that
. I mean,
tea parties? With your doll?
Is there some sort of a sign up list somewhere? Because I would like to enlist myself
immediately
.
Just the other day, I was at the home of a family with young girls and found each one proudly toting a bona-fide American Girl doll. The jealousy reflex in me sprang forth, strong as ever. As much as I begged, my parents would never cave and purchase me a wildly expensive Samantha doll per my requests...er, demands. My friend had one complete with it's own turn-of-the-century style miniature version of the rich person wire bed on which she slept. Granted, these young girls I encountered this week had the far inferior "Just Like Me" My Twinn-knockoff dolls complete with eerily identical features and customizations, but the jealousy reflex enacted nonetheless.
While American Girl may have started with the noblest of literacy and girl pride-minded intentions, the brand morphed into a major franchise of merchandise and self-proclaimed collectibles. I was an avid reader of the books, so imagine my delight as a child when the mailman saw fit to bring me my very own American Girl merchan dise catalog. If I had known what crack was at the time, this catalog would have become its mildly less addictive equivalent for my 10-year old self. I spent hours meticulously marking pages, indicating not only which dolls and accessories I preferred but also which me-sized American Girl-style clothing options I would hopefully someday wear with false-modest pride. Who doesn't want colonial frock or a shirt whose collar suffocates me with its early 1900s high buttonedness? These things are relatively irresistible. Well, to girls in the target 8-12 demographic, that is.
This effort-laden catalog scouring turned out to be for naught, but it did teach me a valuable lesson about coveting and consumerism. That is, that I really, really like it. Thank you, American Girl. You've served me well in my path to shopping addiction.
The spark of the American Girl concept was born in the mid-80s when creator Pleasant Rowland visited colonial Williamsburg, enjoying the impact of the fully immersive experience. Later, when shopping for gifts for her tween-aged nieces, Rowland realized that the range of dolls available to preteens was highly limited. The focus of these dolls, she observed, seemed to be on either mothering (baby dolls) or aspiring to teenagehood (Barbie-type fashion dolls). No dolls were specifically geared toward the interests of then generally underserved preteen demographic.
Initially launching the line as a mail-order enterprise, Rowland created the fledgling American Girl franchise in 1986. American Girl originally featured three historical girls: Kirsten Larson, Samantha Parkington, and Molly McIntre. Each doll came with three books about her life in her respective historical setting and optional clothing and accessories based on the character. American Girl was born.
American Girl quickly grew into a veritable operation, releasing birthday books, seasonal books, and my personal favorite in 1988: life-size matching clothing for the doll owner. The line veered into some alternate territories, but for the most part its focus was on the historically relevant doll line with its corresponding books. The original characters released in 1986 were:
Kirsten Larson (1850s)
Kirsten is a Swedish American living in Minnesota in the mid 19th-century. Kirsten is a kind, sensitive girl open to new experiences in her new country. She was an avid sewer and had an adventurous spirit. Plus, she wore her hair in an awesome braid/Princess Leia Cinna-bun hybrid. I liked the idea that she was Minnesotan like me, but I could never seem to get my hair to stay in those braid loops like hers.
Samantha Parkington (1900s)
Samantha Parkington is a turn-of-the-century orphan living with her rich Grandmary. Yep, Grandymary. I guess that's Edwardian rich-speak for Grandmother. Samantha is curious and progressive, excited in new prospects and ideas. She taught me that you can be both rich and kind. Plus that it's totally awesome to have a slew of servants at your disposal. I don't think that was the point, of course, but I definitely picked up on it.
Molly McIntire (1940s)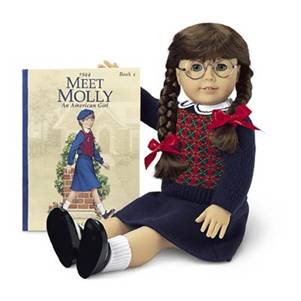 Until the line expanded into more ethnically diverse characters, Molly is the original line's token "girl with the glasses." Molly is lively and scheming, with a father abroad fighting in World War II. She has a taste for glamour and excitement and has vivid imagination.
The line quickly expanded to include more characters based in different historical periods. In 1991:
Felicity Merriman (1770s)
It's surprising Felicity wasn't in the original release group, considering creator Pleasant Rowland's claim that a visit to colonial Williamsburg inspired the series. Felicity is coming of age during the Revolutionary War. She is highly independent and spunky and rejects many of the feminine ideals assigned to her my her time period.
In 1993:
Addy Walker (1860s)
The series' first African American character, Addy's books explore more complex societal issues, depicting her life as an escaped slave. Addy doesn't believe slavery is fair and is a proponent of racial equality, finding the North to be similarly prejudiced to the South from which she escaped.
In 1997:
Josefina Montoya (1820s)
Josefina is a girl growing up in New Mexico before the Mexican-American war, when the period was still under Mexican control. Her books integrate some Spanish terms and examine Josefina's life following the death of her mother. She is shy, thoughtful, and caring. Plus, we get to pronounce her name "HO-se-fina", which is totally awesome.
In the 2000s, the company later added post-white settlement Native American Kaya'aton'my,first-generation American Russian Jewish Rebecca Rubin, spunky tomboy Kit Kittredge, and civil-rights minded Julie Albright. The diversity of character and ethnic background grew significantly over the years since the original 1986 release, but the general guiding principles remain the same.
The books had their flaws, but they fulfilled Rowland's original vision of interesting young girls in history and lives unlike their own. Rowland introduced girls to disparate historical periods through the lens of girls who were their own age, with similar hopes and ideals. It was an innovative idea, and kids bought into it with great fervency. Bought into it so much, of course, that they begged their parents for books, dolls, magazine subscriptions, costumes, accessories, and everything else that turned this educational premise into a lucrative financial enterprise. It may have worked too well on me; I'm still putting that Samantha doll on my birthday list. It's worth a try. If you're interested in fulfilling my decades-long dream, don't forget to throw in the wire-frame bed too.