It probably doesn't bode especially well for our generation that we can get all wistful and misty-eyed over some nutritionally void sugar-laden snacks, but sometimes we just can't help ourselves in these matters. It's tragic in its own small way that today's children will never taste the glorious sugary sweets that so sustained us in our youth. By "sustained" of course I mean it kept our hyperactivity level off the charts and kept our dentists' respective children in expensive sneakers. What? It's a valid interpretation of sustenance, given you accept that these treats served no real nourishing purpose.
You just don't know what you have till it's gone. For a brief, fleeting period these sugary snacks enticed us with their off-the-charts sweetness. Like all good things, though, our love affair with these candies were forced to come to a bitter end. For many of us, we didn't even realize these sweets no longer graced our grocery store shelves until it was too late. Had I been alerted of the impending discontinuation, I would have stocked up on Hershey's Tastations before it was too late.
Mintaburst/Cinnaburst/Fruitaburst Gum
You name the flavor, this gum was a'burstin' with it. Unfortunately, it bursts no more. The burst in question was a mysterious compound of so-called "flavor crystals," which seems to be some sort of code for "gritty hard pieces in your gum that are kind of gross but also ripe with flavor."
Astropop
When I think of what the ideal adjective for describing a favorite candy is, "stabby" usually ranks pretty close to the top of the list. Any candy that can double as weaponry is okay in my book. That book, of course, is called "Lollipop Swords: Beginning Swashbuckling for Youngsters." Look for it coming soon to a bookstore near you.
These things were pure sugar, which from a child's perspective is the be-all-end-all of attractive candy characteristics. Astrioios unfailingly stained our lips and tongues, but this should have been the least of our parents' concerns. The most, of course, being that it was possible to lick the Astropop into a finely tuned dagger and inflict multiple puncture wounds onto our siblings on car trips. Ouch.

Tastetations
Mmmm....Tasteations. These things were creamy hard candy goodness with the Hershey's chocolatey seal of approval thrown in for good measure. Sure, you might feel like a crotchety little old lady carrying around hard candies in your pockets, but the taste made it well worth the minor image sacrifice. Apparently Hershey's first-ever hard candy just wasn't enough to hold our attention--their heyday was pretty short-lived.

Carefree Gum
How, I ask you, are we supposed to adequately sprinkle
Clueless
movie quotes into everyday situations when the cultural context has cruelly been discontinued? I'm referring, of course, to Cher's impassioned tirade against gym class in which she claims she barely burned off the calories in a stick of Carefree Gum.
By the way, that above commercial is actually pretty funny. Kudos to Milli Vanilli for taking the low road after their incredibly embarrassing lip-syncing debacle. You know what I always say: if you can't make fun of yourself in a gum commercial, you just can't make fun of yourself.
Gatorade Gum
Also known as GatorGum, this sports-themed chewing gum had it heyday in 70s and 80s and enjoyed a brief revival in the late 90s. When I think sports and quenchiness, I don't typically jump immediately to gum, but hey, it worked.
I know the commercial is a bit dated for what we usually post around here, but it's just so funny I couldn't resist. It's cheesy in a way that advertising just can't get away with anymore. "Active people are discovering the gum that's different!" (Man in sweatband crosses finish line) "Now you can lick...dryyyyyy mouth" (Sweatbanded man opens mouth to reveal a camel and some sand). Brilliant.
Dinosaur Eggs
These egg-shaped jawbreakers from the Wonka candy company came in individual boxes, which misled us to believe we could consume them in a single sitting. These things were
huge
, plus some of them had the added licking obstacle of the Dino
sour
taste.



Lifesavers Holes
If you ever wondered what they do with all the leftover cutouts at the Lifesavers factory, look no further than the briefly popular "Holes" candy pieces. It doesn't get much lazier than this. "Hey, you know those extra candy pieces we already have but usually toss in the trash?" "Yes?" "We should totally sell them." "Sounds like a plan. Let's give them a kind of gross sounding but fitting name." "Done and done."



Mars Bars (US)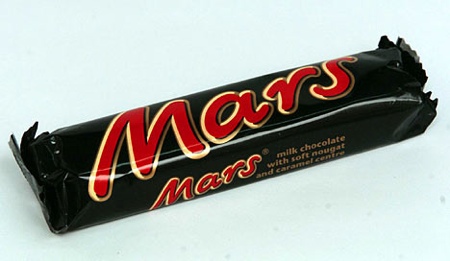 These have been unavailable in the US (despite a steady supply abroad) for nearly ten years. I've heard a rumor, though, that they've been relaunched. If this is true, I'm off to devour one now. These things are
awesome.
One might even say
out of this world
. Ba dum ching!
Butterfinger BBs
Who better to take candy advice from than the man himself, Bartholomew J. Simpson? This kid knew his stuff. These have since been discontinued, so the best we can do now is chop up a bunch of butterfingers into small circular pellets and simulate the experience at the movies. Somehow, it just isn't the same.

Crispy M&Ms
Yet another bygone product from our pals at M&Ms. It seems every couple of years or so, they come up with some variation on the classic. The crispy kind had a sort of Nestle Crunch style popped rice inside. They were equal parts satisfying crunch and tastiness, though many of us failed to realize their deliciousness till it was too late.


Tearjerker's Gum

Do you love being tortured by sour candies? Instead of just enduring its presence in your mouth, do you prefer to chew the heck out of it for an extended period of time? Well, then you're in luck. Or at least you were if you grew up in the 90s. These may still be available in limited
Hershey's Cookies and Mint Candy Bar

Just when they come up with something I really adore, they pull it from the market. It's just my luck. This bar was magnificent--milk chocolate, oreo-type coookie bits, mint flavoring...it had it all. And it was not, as the package implied,
green.
Thank goodness.
This post has made me pretty hungry, which is unfortunate as all of these products are no longer available in safe sell-by date form. We may no longer be able to enjoy them, but at least we have our memories. Sigh. Oh, and if any of you knows where to find these, by all means, please share with the class.